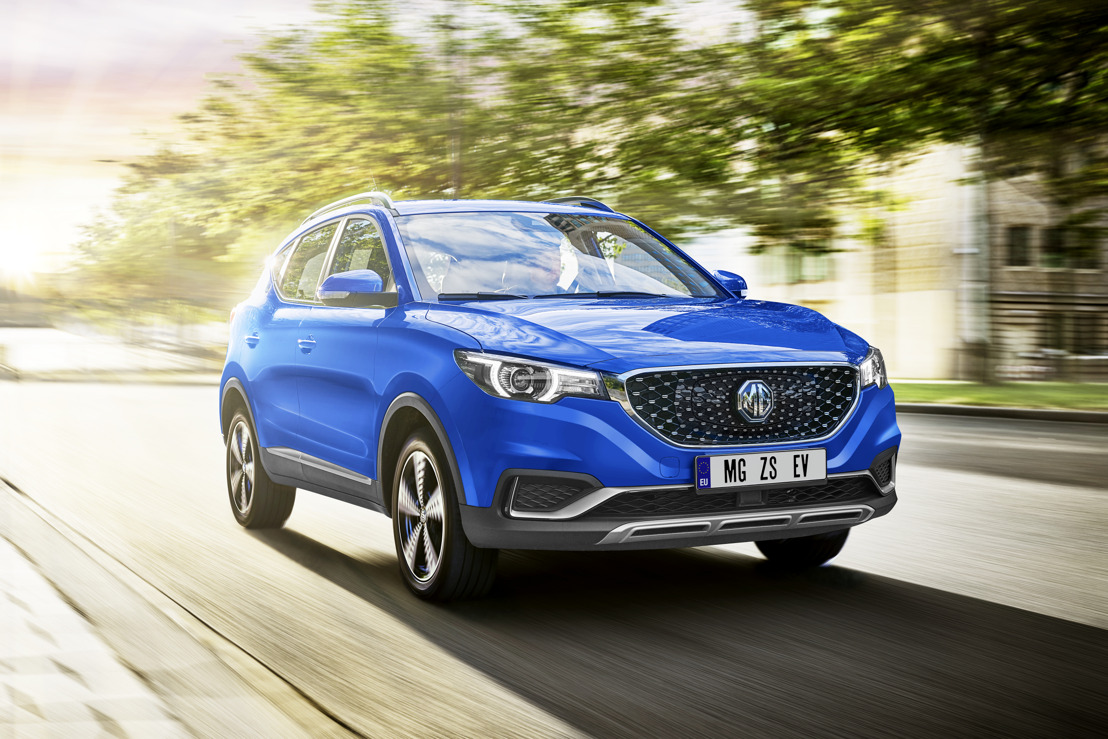 MG launches the brand new MG ZS EV embedded with the latest L2 Partially Automated Driving Technology from Bosch at IAA
Tuesday, September 10, 2019 — IAA, the biennial "Motor Olympic", opened today. At this show, SAIC MG, the iconic British motor brand established in 1924, launched the brand new high-end 100% electric compact SUV — New MG ZS EV. Featuring the latest L2 Partially Automated Driving Technology from Bosch, this new model provides the cutting-edge intelligent solution to control traffic congestion, mitigate potential safety risks in driving and extend driving enjoyment. The new MG ZS EV will hit the European market soon and its MG Pilot L2+ Intelligent Drive System will be applied to more new MG models in the future.
SAIC and Bosch have established a long-term close cooperation. SAIC ranks No. 39 in the Fortune Global 500 as the largest Chinese motor manufacturer. It's also the first carmaker to implement the strategy of "electric, intelligent networking, sharing and international", and therefore enjoys an advantage in forward-looking technologies including intelligent drive. MG exerts a great influence over the global market and young consumers.
MG ZS, MG's global hit, has swept over four continents and 36 countries, has become one of the best sellers in several markets, especially in the UK, Australia, Six Gulf countries, Thailand and Chile, attracting 250,000 new car buyers in just two years. The new electric model, MG ZS EV launched in the UK in July and has already secured enough orders to make it one of the best-selling electric cars. It will be launched in the biggest European electric vehicle markets this autumn.
The New MG ZS EV is embedded with the most advanced MG Pilot L2+ Intelligent Drive System, which integrates advanced driver assistance systems including ACC (Adaptive Cruise Control), LDW (Lane Departure Warning) and AEB-Cyclist (Automated Emergency Braking - Cyclist) as well as the L2 Partially Automated Driving functions like TJA (Traffic Jam Assist) and ICA (Integrated Cruise Assist, renamed Highway Assist base for Bosch). Moreover, its super hardware, Multipurpose Camera (MPC) and Mid-Range Radar (MRR), is elaborately designed and provided by Bosch too. It can detect, identify the driving scenario and vehicle condition accurately and timely, despite complicated road conditions or unfavorable weather. Based on this system, the New MG ZS EV realizes Partially Automated Driving function in multiple scenarios, such as following front vehicle, brake or lane centering in heavy traffic and enables car owners to enjoy the "Safety Fast" driving passion.
In addition to MG Pilot L2+ Intelligent Drive System, the New MG ZS EV is also characterized by its 260TGI twin-turbo engine, the latest generation of Aisin 6AT automatic gearbox (a first for a compact SUV) and the latest SAIC-Alibaba Banma 3.0 system. With "design+, power+, safety+, 2 intelligence+", the New MG ZS EV has attracted great attention from consumers after its initial reveal in China and it will undoubtedly inspire customers seeking the latest trends in new car design.
- END-
About SAIC Motor Corporation Limited
Since 2007, MG is one of the car brands of the Shanghai based company SAIC Motor. The company is actively promoting new energy vehicles and the commercialization of internet-connected cars, as well as exploring other emerging disruptive technologies. SAIC Motor produce over 7 million cars on an annual basis, that makes it the No. 7 car manufacturer in the world.
SAIC Motor Corporation Limited (SAIC Motor) is the largest auto company in China. SAIC Motor's business covers the research and development, production as well as sales and marketing of both passenger and commercial vehicles.
SAIC's affiliated vehicle companies includes (amongst others) MG, MAXUS, SAIC Volkswagen, SAIC-GM.
About SAIC and MG Motor (MG)
In 1924, an icon was born at Morris Garages. Ahead of its time and ahead of the competition, a classic British sport car captured the world's attention. The icon is now reborn for a new era, redesigned, electrified and relaunched for the road ahead.